Muckross Irish Gin
Even before it hit the market, Muckross Irish Gin had already won a silver medal in the design category at the San Francisco World Spirits Competition 2021.
What inspirations guided the creativity of your bottle?
For our gin we were looking for a bottle with a unique design: striking to the eye, but also exciting to the touch, with many details and design elements that would support the brand and product narrative. It is a bottle not only aesthetically beautiful, but with great narrative power. Three-dimensionality is a key element: around the neck the words 'small batch' and 'Irish spirits' are engraved, on the back the brand slogan 'The natural order', on the bottom the Irish toast: 'Sláinte is táinte', which translates as 'to health and wealth'.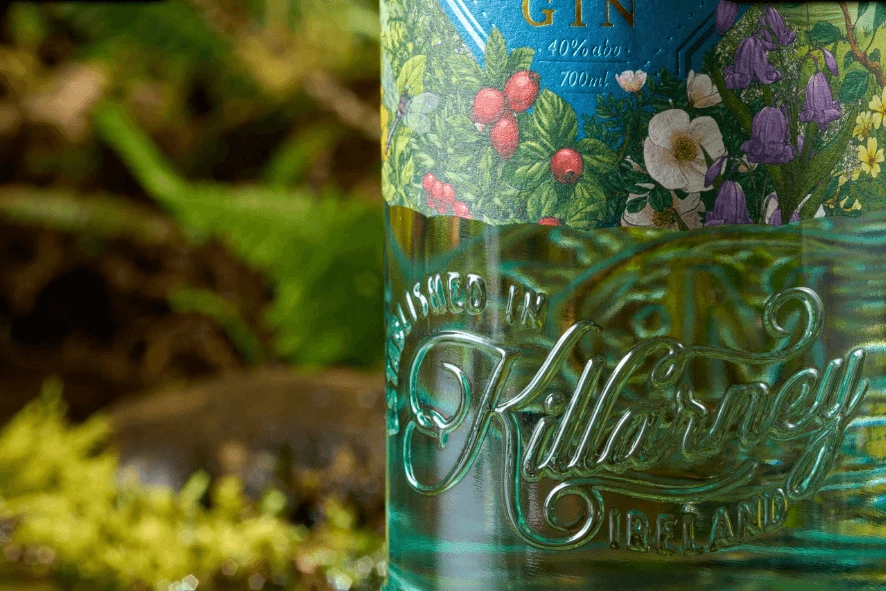 What makes your distillate profoundly unique?
Muckross Irish Gin is inspired by the authentic beauty of our land, Ireland. The product is a tribute to this place, its scents and traditions, in a very contemporary key. Rosehip, hawthorn, blackthorn and heather make up the unique formula of Muckross, notes of grapefruit add a delicious citrus aftertaste to the typical bitter profile. Angelica, rosemary, coriander and juniper then complete the 'ten botanicals' of this new olfactory and taste experience. Finally, the London Dry style distillation emphasises the smoothness of the distillate, which is thus elegant on the nose, but with its unmistakable wild side.
How has packaging supported the product narrative and its identity?
The bottle design confirms the premium essence of the distillate. The front label is an original illustration depicting the flora and fauna of the land of origin, Ireland. A closer look reveals a natural, unspoilt paradise: a deer grazing in the hills, a heron in the lake waiting for fish, a robin chirping to passers-by and protecting his territory, a kingfisher in all his beauty and the Northern Emerald dragonfly enjoying his little corner of paradise. A real invitation to enter this world.