Pure
Our product is not only about the liquid inside but about the packaging and what the brand represents.
What inspired you when you imagined your bottle?
Design has been one of the central considerations throughout the entire process of creating PURE. We designed the product(s) to be a reflection of the company and our ethos, whilst capturing the eye of consumers.
We wanted to create something unique - that stood out on the shelves. Naturally, as a premium product, diamonds came to mind. Then, as a vodka, ice! So we thought we would create a faceted, crystal-cut look to the bottle, like it was carved by hand.
We were trying to push the boundaries of what could be done with glass and the process from start to finish with VETROelite has been brilliant with our reps being extremely helpful and building a good friendship there. They have enabled us to bring our imagination to life!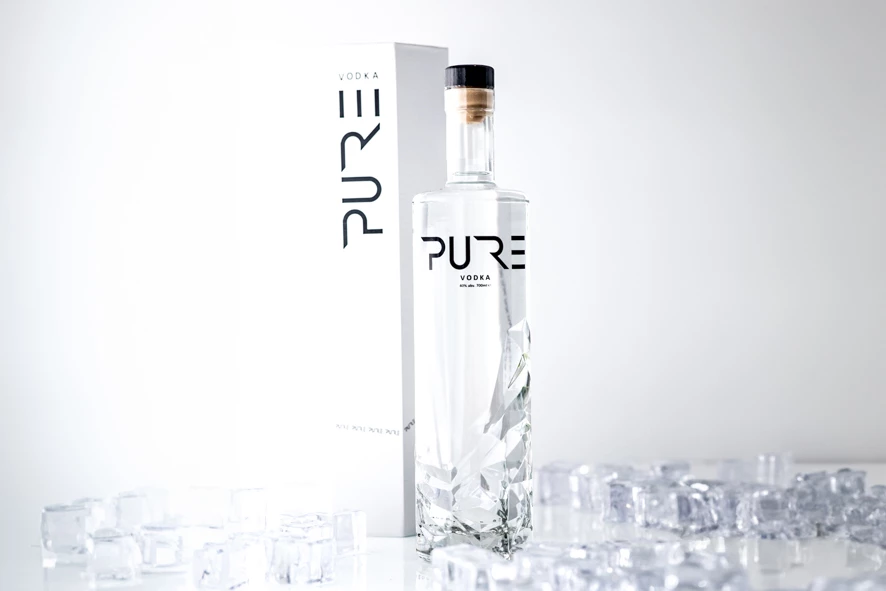 What makes your products unique?
In short, PURE is a multiple award-winning, organic vodka.

Both vegan friendly & gluten free, PURE Organic Vodka is made in Britain, with 100% natural ingredients. We don't compromise our vodka with preservatives, additives (namely glycerol - which is rife within the spirits industry) or artificial flavourings.

A PURE spirit, with citrus tail and floral undertones.
How has the packaging helped in telling the product story and its distinctiveness?
Our product is not only about the liquid inside but about the packaging and what the brand represents.
We have written
articles
where we speak about our passion for design.
The bottle starts with a hexagonal base, and the faceted edges climb up the bottle before smoothing out to a perfect round top and neck. This symbolises the process of our production, taking a diamond from the rough and perfecting it to a smooth, elegant drink.
Our gift boxes mirror the bottles design, hexagonal in shape, with the word PURE written as a ticker-tape matching the bottles faceted edges all around the outside. This continuity and simplicity helps clarify what we want the brand to be; a pure, clean, simple spirit, made with the highest quality ingredients and by workers with passion for what they do, trying to perform their job at the very highest level.