Fluère
Fluère is about flowing in the moment, feeling comfortable in your own skin, and wanting only the best.
What inspired you when you imagined your bottle?
We were developing our non-alcoholic Fluère concept and we took inspiration from "flow"; Fluère actually means flow in old Roman language.
Fluère is about flowing in the moment, feeling comfortable in your own skin, and wanting only the best.
It's a brand and a product for those consumers choosing to live a more balanced lifestyle; the 'Sober Curious' movement.
We visualized the bottle as in state of mind, as the tranquility of a river.
So we took the calm waves from the river in the diagonal design of the bottle itself.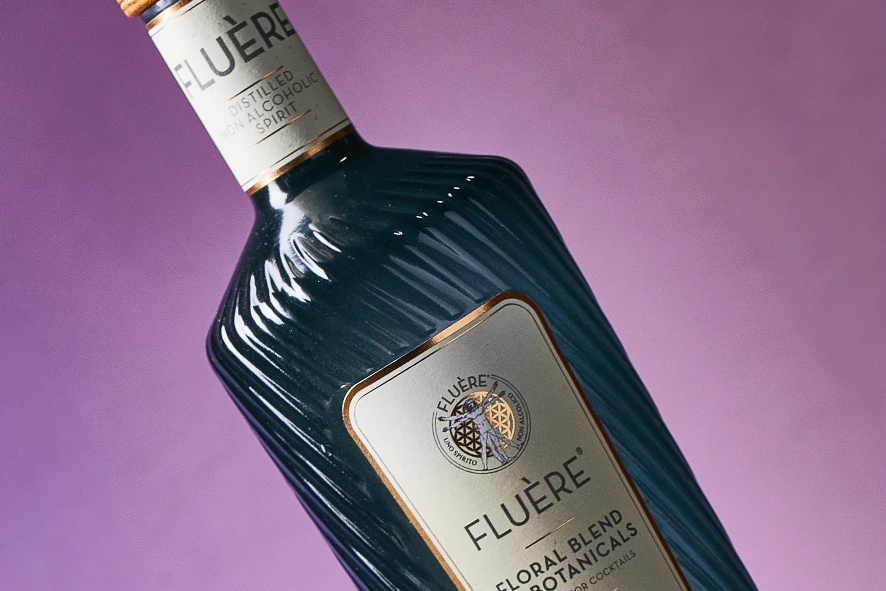 What makes your products unique?
Fluère offers true distilled non-alcoholic spirits. Classically inspired, especially created for cocktails.
We're on a mission to bring our "all day drinking" concept to life.
Like high end perfume houses we use a technique named hydro steam distillation to distill each individual botanical we use in our award-winning liquids.
After this process we combine all distillates together and create our final liquids.
The last stage of the process is that we use tunnel pasteurization and by doing so we ensure to have the most stable non-alcoholic liquid currently on the market that alsocomes with a 24 month shelf life.
The use of these techniques makes us truly unique. In particular using hydro steam distillation gives us the opportunity to work with extreme high concentrated distillates so our final liquids have the same complexity and strong flavor profile like their alcoholic counterparts. Applying tunnel pasteurization results in the most stable non-alcoholic liquids available on the market today.
How has the packaging helped in telling the product story and its distinctiveness?
Thanks to this bespoke bottle we have been able to visualize our concept values with the design of the bottle, explaining the 'flow" whilst enjoying Fluère.
A good way to differentiate our products, to connect with the customers, to tell our story through all the details.