Downpour Gin
The North Uist Distillery produces some of Scotland's finest craft spirits, most notably the award-winning Downpour Gin created with one of our bottles. We interviewed its founders who told us more about the project.
What inspirations guided the creativity of your bottle?
Our goal was to create a bottle that was so unique that we wanted to keep it forever. This is a very sustainable approach that reduces waste: it is a declared invitation to reuse the bottle and refill it again thanks to our refill service. For the design of Downpour Gin we were inspired by vintage bottles, made precious by the many small details that speak of tailoring, such as the embossed name on the bottom indicating the place of origin. This is also why you will find the words 'North Uist Distillery Co' on the bottom of our bottle.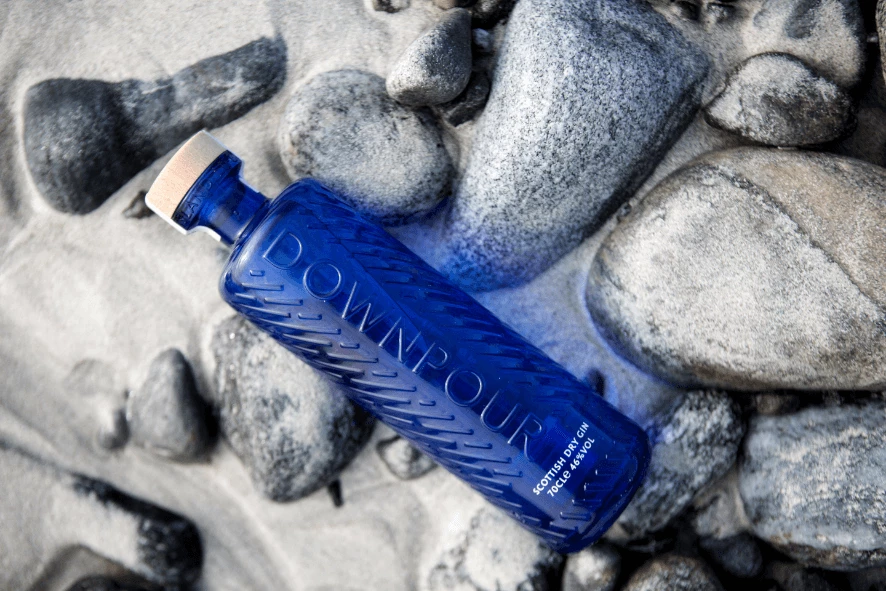 What makes your distillate profoundly unique?
Downpour means Downpour, Flood. For us, it is a metaphor for the intensity of our distillate. We use twice the concentration of botanicals than the industry average, so the aromaticity of the gin is maintained much longer. We exclusively use heather from our own land, implementing an exchange system whereby growers who bring us heather flowers receive a supply of our gin in return. The extra detail: each batch of gin produced is identified with the name of the place where the heather was harvested.
Can you tell us more about the choice of the colour blue?
The colour of our gin has always been particularly bright and perfectly matches the intense colour of the bottle that holds it. That's right: we want the glass to reflect the depth and concentration of flavour of our gin.